Improving Choices: Adolescent Sexual and Reproductive Health in Nigeria
Written by: Ugochi Nwangwu and Pamela Osakwe
Nigeria has one of the highest child marriage prevalence rates in the world. On average, about 2 out of five girls will be married before their 18th birthday. According to recent data from UNICEF, an estimated 22 million child brides live in Nigeria and this number accounts for 40 percent of all the child brides in the West and Central African region[1]. Across Nigeria, 11.6% of girls are married by the age of 15 and 49% of them are married by 18. In addition, adolescent birth rates are high and pose specific health risks for adolescent girls and this is because once girls are married, very few (3.0%) use contraception in spite of their needs to space their childbearing time.[2]
The need to improve adolescent sexual and reproductive health (ASRH) has become a priority concern especially as it relates to a myriad of health problems such as unintended/unwanted pregnancies, maternal mortalities and sexually transmitted diseases. Increased access to sexual and reproductive health (SRH) services has the potential to mitigate these reproductive health concerns among young adolescents. However, the presence of gender biases and stereotypes in Northern Nigeria prevents adolescents from freely accessing these services. This is especially true for young adolescent girls (married or unmarried) who cannot easily access family planning products or services for fear of being turned away or termed as promiscuous.


About the REACH project
The Reaching and Empowering Adolescents to make informed Choices for their Health (REACH) project is a gender transformative adolescent sexual reproductive health project targeting rural and hard to reach communities through funding from Global Affairs Canada.
REACH works in Gombe, Katsina and Zamfara states, where rates of child early and forced marriage, early childbearing, low educational attainment and discriminatory social and gender norms has a significant impact on the ability of adolescent girls and boys to make decisions and access services to protect and improve their sexual and reproductive health and rights (SRHR).
Within these communities, the project sought to promote gender-equitable attitudes and behaviors among adolescent girls and boys (aged 10 – 19) with the goal of reducing gender-based violence and improving sexual and reproductive health and rights.


How the project worked?
Following the gender sensitive socio-ecological approach of the project different interventions were planned targeting different project stakeholders. This included enrolling adolescents in a series of 9-10 weeks age appropriate safe space sessions to build the capacity of the participants around essential life skills, understanding and making decisions around their sexual and reproductive health and rights.
The safe space sessions were delivered using adapted Save the Children International gender equality transformative packages for very young adolescents called CHOICES, VOICES and PROMISES as well as adapted Federal Ministry of Health Nigeria ASRH tool kit and Age and Life stages manual. This helped to improve the knowledge of adolescents on their SRH rights, identifying and challenging gender inequalities and negative social and gender norms.
The project worked with 62 health facilities to improve its adolescent friendly services, provided clinical trainings to 293 health workers within this health facilities on gender-responsive and adolescent friendly SRHR service delivery. Similarly, the project provided capacity building trainings to health workers, patent and proprietary medicine vendors to strengthen the quality of sexual health services with the aim of reducing health service provider bias that hindered adolescents from accessing essential sexual and reproductive health services.
In light of the project's success, Save the Children International, Nigeria held a close-out and dissemination event with key stakeholders and the media to share the project's impact, lessons learned and adaptations in the times of COVID‑19.
Key impacts under the project are captured below, as well as feedback from our participants.


Target Reached
In the first two years, the REACH project recorded impressive progress as highlighted by its midterm review results. The results showed large and statistically significant improvements in the knowledge, attitudes and practices of adolescent sexual and reproductive health within the implementing communities as highlighted in the infographic below.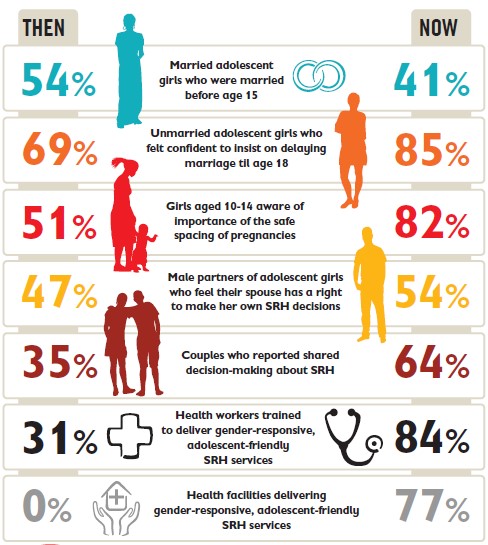 Our Impact: Voices of Change
The project touched thousands of lives of adolescents, parents and health providers. Here are four stories from lives we impacted.


Zainab* is making better choices by getting an education and achieving her dreams!
Zainab* lives in a rural community in Talata Mafara local government area of Zamfara State where most of the girls did not attend school and only boys were allowed to go to school. It did not help that the nearest school was located in a neighboring community which is quite far away.
In 2018, REACH began implementing its interventions in her community and in a bid to make the project acceptable to the community, Zainab's father, who is the district head of the community, enrolled her, her younger sister and some cousins into the CHOICES safe space sessions. As she began to participate in the safe spaces' activities, she was able to express her dreams of she wanting to be educated. She sought the help of the safe space facilitators to help her convince her father to allow her go to school in the neighboring community.
The facilitators meeting with Zainab's father to convince him to allow his two daughters to attend school and complete their education was successful. As the district head, Zainab's father pledged to lead by example and promptly agreed to enroll his daughters and encourage other members of the community to do same.
Zainab is now in primary one and she goes to school without a uniform, a little bag and one exercise book which she uses for all the subjects. However, this does not deter her as she is determined to achieve her dreams of becoming a doctor, so that she can help sick people especially those in her community and help her parents with a better life. Her school teacher also attests to her determination as he revealed,
"Zainab has the zeal of learning. She asks questions in class and pays attention to whatever is being taught in class".
Iliya* is taking charge to get a good education
Iliya*, a young 16-year-old boy lives with his family and seven siblings in the Talata Mafara local government area of Zamfara state. Due to lack of funds, Iliya had to drop out of school and took up the trade of hawking sugarcanes* in his community.
He however had no immediate plans to return to school but all that changed when he joined the REACH Safe Space in July 2020. As a result of all he learned during the sessions, Iliya realized that he needed to take charge of his future and by returning to school to get an education.

Since his parents could not afford to pay his school fees, he decided to start saving a portion of his proceeds from his sugarcane business in order to pay his school fees and buy the required books. Iliya was able to save a total of N17,000 (approx. $41) * and was able to afford to pay his school fees which costs about N6,500 (approx. $16).
He has since resumed his studies at the Abdu Gusau Secondary School in Talata Marafa LGA and is now in SS2.
"I am super proud of myself that I not only have a means of livelihood to support myself as an adolescent but I can also pay my school fees and support my family as well."
His mother and father are proud of Iliya for making better decisions like taking charge of his future despite their circumstances. His mother expressed gratitude to the project saying,
"I appreciate this project because it is through it that Iliya found himself and corrected his future".
Iliya hopes to be an engineer in the future.
*Sugarcanes are a type of tropical grass around the world to produce refined sugar & sugarcane juice
*Dollar- Naira rates from OANDA ($1 - N412)
Changing bias of health service providers to provide adolescent-friendly SRH services: Bisim's Story.
Bisim works in the Primary Health Care center of Balanga Gari local government area in Gombe state as the Officer in Charge. She oversees the provision of health services to the Balanga Gari community with a population of 8,000 people out of which 2000 are adolescents.
Before the intervention of the project, a lot of adolescents within the community had a limited understanding of their reproductive health and the different types of SRH services available at the health care facility. Other barriers that hindered adolescents were bias from health service providers who denied the requests of adolescents to access family planning products and services because of the cultural and religious norms prevalent in the Northern region.
According to her, "Any adolescent bold enough to request for any of the family planning services will be termed irresponsible, wayward and ill cultured."
To bridge this gap, the project trained health workers, patent and proprietary medicine vendors on tackling provider bias and this led to improved health workers attitude towards adolescent health. Bisim shares the enormous impact the training had on her career.
"I have been trained as a Junior Community Health Extension Worker and I have practiced for over 10 years. In my years of experience, I have not received the skills I acquired in the two years of working with the REACH project by Save the Children"
Afterwards, sensitization outreaches were then organized to educate adolescents within the community on the available family planning options in the health facility and the options best suited for particular needs. Bisim reveals that this significantly improved the number of married and unmarried female adolescents accessing family planning products and services at the health facility. The distribution of condom packs increased from a pack of condoms in six months to a pack of condoms in one week. Also, requests for injectable contraceptives which had no demand in the past, has now increased to at least twice a week.
Another notable success that she highlights is the significant reduction in the number of unintended pregnancies by adolescents.
"Before the interventions of the REACH project, the number of unintended pregnancies were alarming with one case being reported about every two weeks. Now, this number has seriously reduced with hardly no cases being reported in the last 3 months."
Drawing from the learnings of the REACH project, Bisim now volunteers to teach young adolescents on the importance of family planning and she also engages with community leaders to deliberate on ways to adopt the REACH safe spaces to ensure sustainability of the project.

The Transformation of a Gatekeeper into a Change-maker!
"As a father, I have always thought that a girl's education ends at 14 years, and after this age she should be married off, irrespective of love for the man or the man's age. I also use to think that girls should not take health decisions for themselves because they are meant to be controlled by their fathers or their husbands."
Mohammed Madaki was of this opinion until he enrolled, his son and daughter to participate in the REACH safe space project after he heard the positive feedback from other parents in his community in Dukku LGA, Gombe state. In no time, Mohammed began to notice a change in his children.
"My children started doing the house chores together without attributing the chore to a particular gender, going to school together and even eating from the same plate. The most drastic change was in my 12-year-old daughter Hajara who particularly started talking about her dreams and how she does not want to get married at 14 but wants to finish her tertiary education and become a medical doctor. She also said she would decide when to get marry and whom to marry."
Now he is committed to supporting his daughter in ensuring that her dreams come true in addition to playing his role as a protector and caregiver. Since her enrollment into the CHOICES safe spaces, Hajara has found a new thirst for knowledge and enthusiasm in learning. Now, Hajara is among the best five students in her class and is on her way to achieving her dreams of becoming a medical doctor in the future.
"I have seen many changes in her and I am willing to sponsor her education to the height she desires, I have also started giving my children equal right irrespective of sex."
The REACH CHOICES safe space sessions were designed to provide gender appropriate empowering, age and life stage-specific Sexual Reproductive Health Rights content in a non-threatening and stimulating environments for adolescents.

Lessons Learned from REACH project
The REACH project highlights evidence that gender transformative approach through targeted interventions at community levels, health facilities, stakeholders including government and policy makers can make significant impact in the sexual and reproductive health of adolescents' rights in Nigeria.
Project findings also reveal that education and power to negotiate remains a powerful strategy to ending child marriage in the country because the longer a girl stays in school, the less likely she is to be married before the age of 18 and have children during her teenage years.
The REACH project worked to promote decision-making power, negotiation skills and behavioural shift around negative social and gender norms that affect access and utilization of ASRH services within its implementing communities in order to create an enabling environment where adolescents could have improved knowledge and attitudes around their sexual and reproductive health.
At the project's midline assessment, data showed that 85% of unmarried adolescents within the implementing communities felt confident to insist on delaying marriage till the age of 18 from an initial rate of 54% at baseline.

The project also provides evidence that shifting gender bias among health care providers through provider bias and gender responsive ASRH clinical trainings is an efficient way to improve access to adolescent-friendly essential sexual and reproductive health services.
At the baseline evaluation, it was found that none of the primary health facilities delivered gender-responsive, adolescent-friendly SRH services but this improved to 77% at the midline assessment.
Importantly, utilizing a gender sensitive sociological model, deep dives into Gender equality analysis and social norms explorations provided the REACH project an understanding on how to address deep-rooted gender inequalities leading to improved life choices and sexual reproductive health of adolescents living in hard-to-reach communities. Evidence from the project provide a sustainable approach and highlight best practices in successfully programming for adolescent sexual and reproductive health in Nigeria.